More Characters
Featured Article of the Month
Toot Braunstein A spoof of Betty Boop, Toot is a feisty black-and-white former sex symbol who had her glory days in the 1920s. The confessional captions give her age as 22 years old.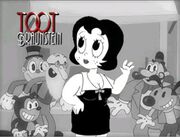 The show sometimes implies she is actually considerably older, easily over 100, by depicting her with cellulite-ridden buttocks and hips, liver spots, distended labia, and breasts that sag to her knees. However, whether Toot is actually supposed to be as old as her 1920s origins would imply is somewhat doubtful (see Age Issues, below). One of the central premises for Toot's character is that she comes from a world where her looks and body type were considered the female ideal, but in the world of today, she is regarded as overweight and outdated, a contrast that provides much of her character's conflict.
Read More.
Hello. Welcome to the Drawn Together Wiki, a wiki devoted to the animated series Drawn Together.
In Ghostesses in the Slot Machine, While redecorating each other's favorite living spaces - not always to the recipient's liking—the housemates are terrorized by poltergeists. Foxxy discovers that the Drawn Together house was built on Indian burial ground and is haunted by the ghosts of 1,000 Indians. In order to appease them, the backyard is given to a ghost Indian tribe, which builds a towering casino hotel (the Lost Indian Souls Casino) next to the house. Read More.
Where to start